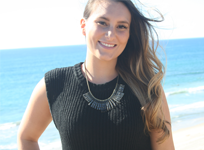 Kasey Pentecost
Owner/Lead Esthetician
Licensed Since 2010
Kasey Pentecost was born and raised in south orange county and has lived in the beautiful city of San Clemente for 15 years. She is a native to the beach lifestyle and loves the laid back/mellow feel. Her professional background consists of being in the skin care industry since 2010 and since then has specialized in hair removal. Starting her Esthetician career with Sugaring hair removal, she instantly fell in love. Not only is sugaring all natural and organic, it removes the hair in the natural direction of growth. Since learning this special skill in LA, she has brought it down to the South OC and being one of the only few Estheticians certified in this skill. The Wax Boutique is a Sugaring AND Waxing full body salon. On the personal side Kasey loves going to the beach, walking/playing with her beloved bulldog Hulk and catching up on her latest reality show addiction.
She is very passionate about creating a positive atmosphere for each client and making every experience a great one. "My intention is creating a positive space for each client that comes in from the moment they walk in to the moment they walk out. I love chatting and getting to know each of my clients on a personal level to where they aren't just getting their routine wax/sugar session, they are catching up with one of their girlfriends."
At the Wax Boutique we want you to feel comfortable and look your best. We strive to provide you with the best and latest products on the market.  Make us your go-to Waxing/Sugaring Salon!